N100 Million worth training camp comes to a close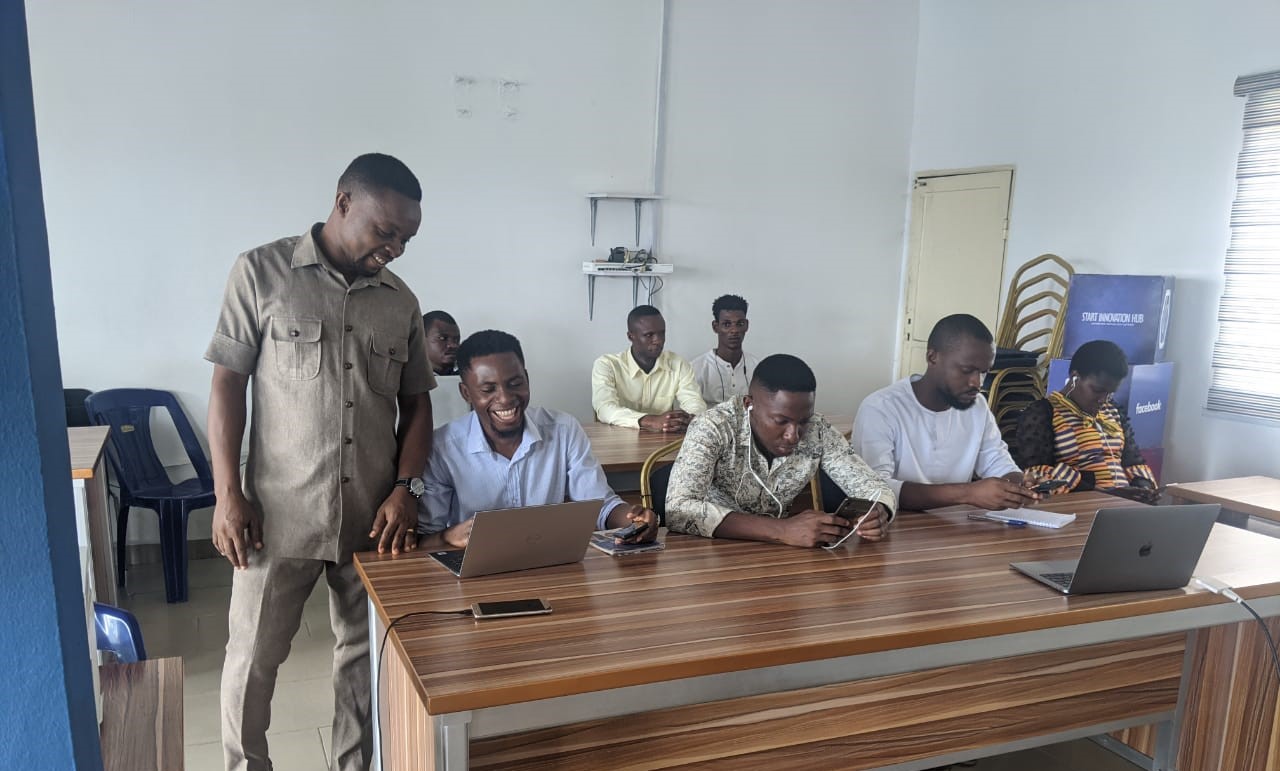 Following the successful completion of a two-week build and grow training camp for all 72 enrollees of Inoyo Toro Foundation-sponsored Akwa Ibom Tech Week 2021, beneficiaries have begun to count their blessings and name them one by one.
The two-week intensive expert-led training, worth N1.5 M per participant, totaling N100 M in aggregate value, started after the 2021 #AKITECH Pitch Competition of October 8, 2021 and ended over the weekend, with the 72 tech solution providers having their success stories to tell.
Speaking during the closing session, some of the beneficiaries bared their minds on how much value has been added to their lives and the things they do, since after the hosting of #AKITECH 2021 by Startup Innovation Hub. For Kingsley Ekanem, CEO of Alpha 1 Technical Services whose locally-fabricated medical oxygen generator project won the One Million Naira star prize during the Inoyo Toro Foundation-sponsored pitch competition, the whole stuff was something to remember.
"I started innovating as a student in Technical College, Ewet in Uyo. The highest thing you get here in Akwa Ibom is 'Wow!' I thought I was in a wrong place, until I saw my name published as the second innovation wonder of Akwa Ibom State. But I asked myself, is this how wonders are? For many years of my efforts of saving lives with my patented locally-fabricated medical oxygen generator, I never really felt encouraged and supported, until Inoyo Toro Foundation came and changed that story.
"I am passionate about oxygen generation and the foreign devices are really not enough. Yesterday, we lost someone at the University of Uyo Teaching Hospital because of lack of oxygen, with only 30 medical oxygen generators available. Sometimes, I get to support some patients with my device. Like I said while making my presentation during the Pitch Competition, my father died because of lack of oxygen. I don't like to see it happen again".
The medical oxygen technician informed, "Let me say this to encourage some of you here. On Wednesday, one of the patients whose lives was saved by offering oxygen some time ago, came back from the US to appreciate us. The problem of oxygen in Nigeria is real. If Teaching Hospital is losing lives because of it, how much more smaller hospitals in the villages?"
"That's why I am really grateful to Mr. Hanson of Startup Innovation Hub for organizing #AKITECH 2021 and to Inoyo Toro Foundation and others for the sponsorship and support. It has really been an amazing opportunity. Techies in Akwa Ibom State need support. Everybody that carries a laptop is not a yahoo boy."
"With supports and encouragements like these, the tech community in Akwa Ibom can grow faster. Money is like oxygen to tech startups. If we can set the pace, there would be no need to continue to run to Lagos for tech solutions need in the state".
Uwem Akpan, another tech innovator who specializes in building apps and e-commerce websites for clients and owns a tech company, WillieNuel, noted that, #AKITECH 2021 plus the two-week build and grow camp has given him a new family of persons to work and grow with, as he continues to pursue his tech innovations.
"Since I came back to Akwa Ibom from Lagos, I was like, how would I cope? I didn't have tech persons around. But I now have a new family. I thank Inoyo Toro Foundation for creating this new family for me."
For Moses Idara and Awesome Bassey, developers of Iko Ibom, a language solution app designed to enhance learning of Akwa Ibom languages using fun and interactive techniques, whose product won the N500,000 first runner up prize during the pitch competition; the build and grow camp has opened tech innovators to plenty doors of accesses and opportunities.
"We have got access to premium contents and contacts we could not have discovered on our own. It has opened us up to partnership. During the camp, innovation experts who took us through the various sessions, shared opportunities. Just this week, we have got like three job opportunities. We are very appreciative to Startup Innovation Hub for organization, Inoyo Toro Foundation for sponsorship, the African Fintech Academy, and others for this great support".
The development of Iko Ibom by Moses and Awesome, Accountancy classmates who graduated from the university in 2017, started in October 2019 and was launched in March 2020 with Ibibio as the only language. But today, the app has Ibibio, Annang and Oron languages and is now available on Google Play-store for all to download and use.
For Nwisabari Samuel, a tech innovator and developer of SmartWaka.Ng, "The boot camp was an eye-opener. We came here to learn and in deed, we have learnt. The boot camp afforded those of us who never had the opportunity to pitch our ideas during the #AKITECH 2021 pitch competition, to do so. I want to say thank you to Inoyo Toro Foundation. Thank you to Startup Innovation Hub. Thank you to everyone. I Pray this is sustained."
David Orok, a 2017 graduate of Chemical Engineering whose app, eelSpace, an innovative marketpspace app for vetting technical talents to help SME's start, grow and scale their businesses at affordable rates, was full of excitement. The developer whose innovation emerged 2nd runner up, with a cash prize of N300,000 during the October 8 pitch competition, recounted the blessings of the boot camp and profusely commended all who made it possible.
"I want to thank Inoyo Toro Foundation for connecting us and opening our eyes to available opportunities. I thank the organizers and those who took us through the two-week boot camp. One of the greatest things about this is the value of network we now have. I think we can have more regular pitches. Pitching helps startups to feature their ideas and get suggestions from experts."
The brain behind #AKITECH2021 and CEO, Startup Innovation Hub, Mr. Hanson Johnson particularly commended Mr. Udom Inoyo, who utilized his network of contacts and passionately took over the sponsorship of #AKITECH2021 after he was approached to serve as Keynote Speaker. He highlighted a few challenges techies in Nigeria face and encouraged the young tech innovators to always stay upbeat. Hanson charged the innovators to sustain the collaboration even amongst themselves and host regular pitching and training sessions for themselves.
Dr. Udeme Nana, a respected media scholar and Founder, Uyo Book Club, who visited to engage the participants at the Boot Camp, congratulated the young folks for rekindling hope for Akwa Ibom State and Nigeria by offering themselves as prospects for the development of society through technological innovations.
"It is really nice to have young, talented and self-driven people like you embrace this lofty opportunity to showcase your abilities. You have rekindled my hope in Akwa Ibom State and Nigeria as prospects for the future development of our society depends you since we are in the age of technology. You need to deepen your relationship with each other in the new technology family built for you. A lot of people think money is scarce but I know that there is so much money out there for good ideas and useful skills."
On his part, Mr. Nsikak John, who was the lead facilitator of the Africa Fintech Academy-driven boot camp, congratulated the 72 tech innovators and charged them to put to good use the expertise and contacts gathered in the course of the training, in order to scale and grow their ideas into sustainable businesses. He mentioned that the induction of all the participants into the Africa Fintech Community is to provide access to markets, partners and funding.
Mr. Idotenyen Isaac, immediate past Manager, Field Human Resource, ExxonMobil and Managing Partner, GEORGID Consulting, one of the lead facilitators of the program for Inoyo Toro Foundation, congratulated the young Akwa Ibom techies for capturing the opportunity which the novel tech sponsorship offered and for their successful induction into the Africa Fintech Community. He expressed optimism that the knowledge, expertise and professional counsel offered in the course of the training will equip the tech innovators to scale and grow their ideas into prosperous businesses in their interest and that of the society.
Mr. Isaac gave a glimpse of the future for the 72 participants. "Though the two-week build and grow boot camp has ended, the engagements have not ended. One-on-one pitching sessions have already begun. Each of the participants get into a session with a set of experts in ICT, software developments, successful tech solution owners, lawyers, who take another look at their innovations and finetune them to blossom. A plan is also in the works to set up a team of lawyers to provide centralized legal supports to the nascent tech innovations. Since their innovations are still fresh, it is important to protect them as they launch into the global tech ecosystem."
Photos from the training
---