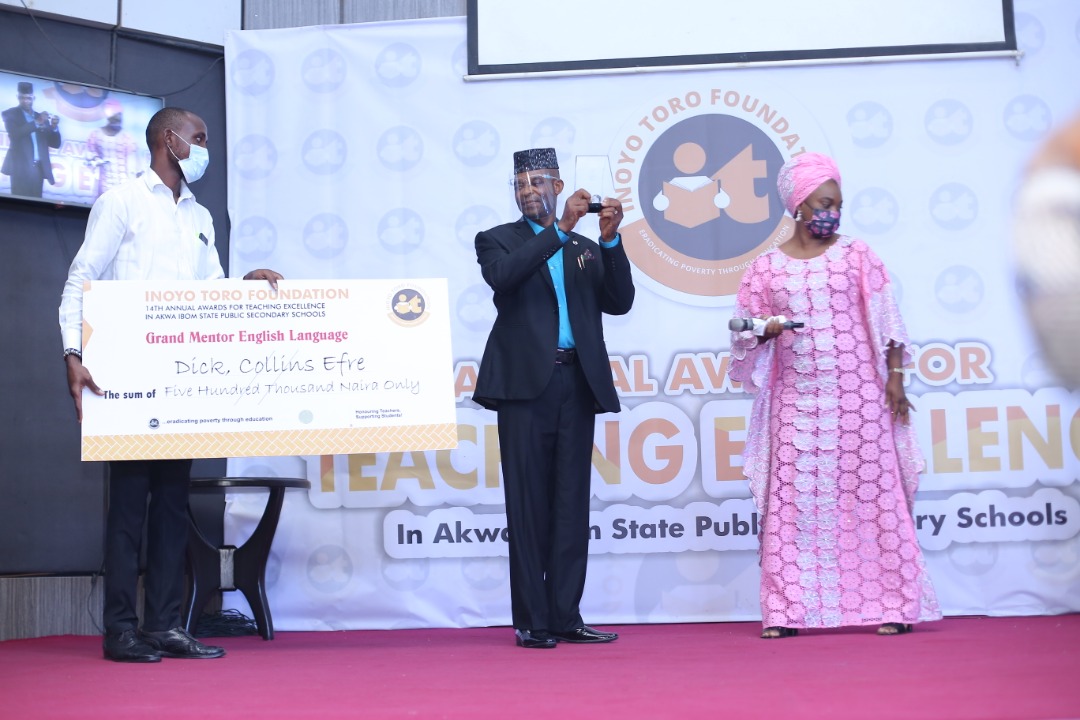 Against the presumption that teachers' rewards await them only in heaven, a total of 21 teachers and one principal have been celebrated and rewarded by Inoyo Toro Foundation during its 2021 annual awards for teaching excellence.
Five of the teachers emerged Grand Mentors in various subjects, 16 won 1st, 2nd, 3rd places in six subjects and one head of school emerged winner of the 2021 Principal's Award.
While Dick Collins Efre of Okoromita Comprehensive Secondary School, Okorette in Eastern Obolo LGA emerged the 2021 Grand Mentor in English Language and carted home an excellence award and prize of N500,000; Uduak Timothy Akpan of Community Secondary School, Iko Town, Eastern Obolo LGA won the 2021 Grand Mentor Teachers' Award in Mathematics and returned home with an excellence award plus a cash prize of N500,000.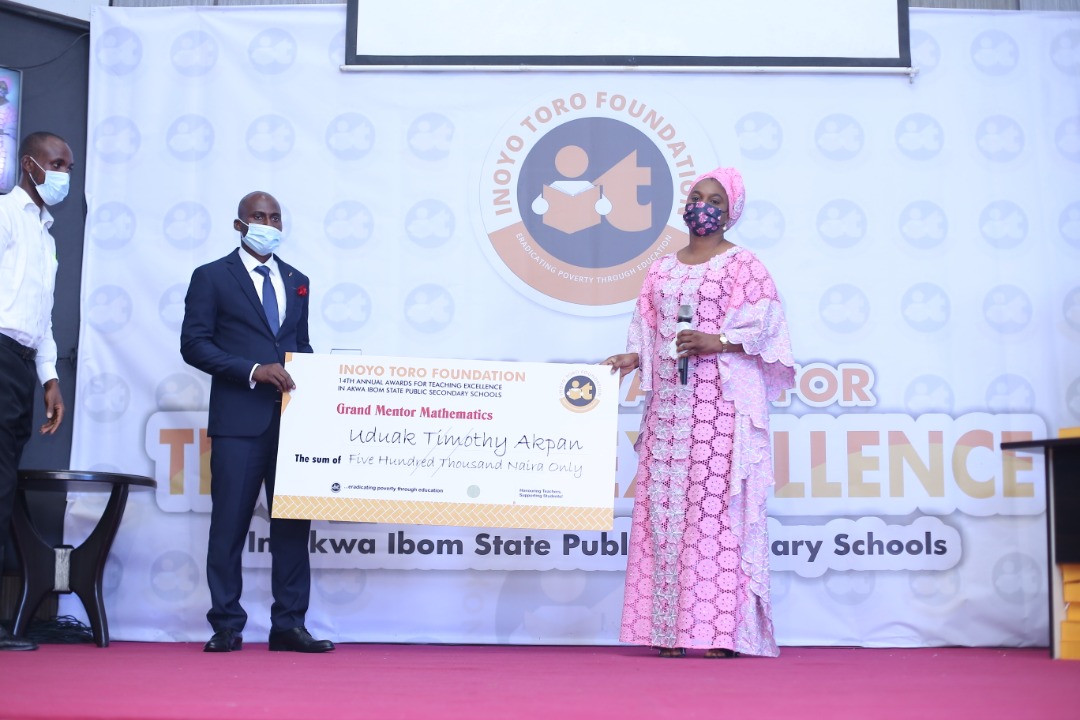 Other winners in the Grand Mentor Awards category who smiled home with N500,000 cash prizes were Ekere Robert Mkpa of Etinan Community Comprehensive Secondary School, Etinan, for Chemistry; Ephraim Jacob Inyangudo of Comprehensive Secondary School, Ediene Abak, for Physics; and Ekemini Emmanuel Isok of Secondary School, Etoi, Uyo, for Biology.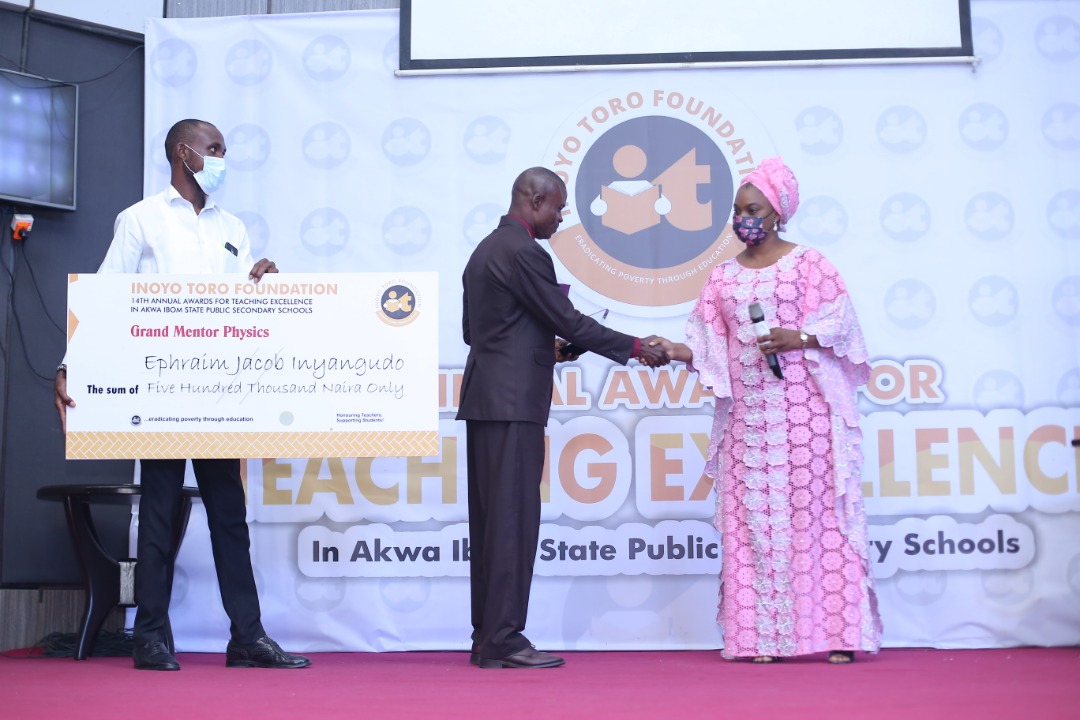 Similarly, Eno Etukudo Ese, Principal of St. Francis Secondary School, Ikot Ataku in Eket Local Government Area of Akwa Ibom State won the 2021 Principal's Award, with a prize tag of N500,000.
The subject category winners for English Language were Kusua Senam Ukot, first position; Bella Bassey, 2nd position and John Effiong Udoh, 3rd position. For Mathematics, the 1st, 2nd and 3rd place winners were Ekpedeme Cyril Akpan, Udeme Dickson Abraham and Cyril Iniobong Edet, respectively.
Akpan Basil Inyang of Edu Secondary School in Mkpat Enin LGA won the first-place award and prize of N250,000 in Physics and Ekaete Rebecca Akpan of Etinan Institute, Etinan carted home similar award and prize, having emerged first in Economics.
For Physics, Economics, Biology and Chemistry, the second and third place awards and prizes went to Friday Sunday Akpan and Odudu Etim Udoudom; Aniekan Udo and Kevin Kevin; Aniefiok Ekanem Antia and Unymeobong Isok; as well as Uduak Sunday David and Joshua Felix Effiong, respectively.
The recognition and reward accorded the teachers seemed a major motivation not just to the teachers themselves, but to the entire education ecosystem in Akwa Ibom State. The comments of some of the obviously elated teachers who spoke after the ceremony revealed that much.
The first prize winner in English Language, Kusua Senam Ukut, noted: "It makes me feel exhilarated and fulfilled as a teacher. It has been a wonderful experience. This is the first time I have partaken and I believe I will not relinquish. The selection process was vigorous but very transparent. It was handled by experts, not based on recognition. I am very grateful and I want to tell Inoyo Toro Foundation to keep the flag flying. I envisage a situation where others can emulate what the Foundation is doing. If we have three of this kind of initiative, then the education status of the state would certainly be lifted from where it is right now."
On her part, Ekemini Emmanuel Isok, the 2021 Grand Mentor Award winner in Biology and mentor to the two other Biology winners, said: "I feel fulfilled that all I have been putting into my work have been rewarded and the motivation is high. It is quite inspiring because it makes me want to do more. I can put back a percentage of the prize into my work, like getting some instructional materials and helping some of my students to register for JAMB. The Foundation should keep up the good work. They have done much, not just to teachers, but to the system."
The 2021 Principal Award Winner, Eno Etukudo Ese, was full of emotions when she voiced: "It is a memorable day for me. I am motivated. I am fulfilled. I am happy. I didn't expect the award, even though I went through the very rigorous and detailed screening exercise. The Foundation is doing a very good work. They are really impacting on lives. Those days, people use to say teachers' rewards are in heaven. But now, we have started receiving our rewards on earth at the instance of Inoyo Toro Foundation. May God bless the Foundation."
While Speaking at the event, the Guest Speaker and Proprietor of Topfaith Schools and University, Dr. Emmanuel Abraham narrated the very inspiring story of his life and highlighted how God, hard work, good parenting and the sacrifices of teachers had conspired to raise a son of a village carpenter from Mkpatak to becoming the 1981 First Class Valedictorian of the University of Calabar, who later became a very successful banker, entrepreneur, proprietor of the famous Topfaith Schools, founder of Topfaith University, a husband of one wife, and a Ph.D holder whose five children all acquired Ph.D's before their 30th birthdays.
Dr. Abraham, himself a veteran teacher of teachers, congratulated the winners and celebrated teachers across the globe, noting that, "the teacher is the backbone of our development and the light of our society."
"Humanity has relentlessly developed ways to foster comfort, break new frontiers and attain perpetuity in the sustenance of life. Humanity has also, over time, established some values and institutionalized learning systems transferrable from one generation to another. In the midst of this continuous effort to uplift humanity, the teacher is the pivot. The teacher is saddled with the responsibility to custody and disseminate set instructions, knowledge schemes, skills, models and behavioral patterns for the advancement of human existence. I thank the Inoyo Toro Foundation for initiating a giveback programme that recognizes and celebrates the Teacher, the real-time driver of the world's civilization from time immemorial. Thank you again for keeping the initiative alive for many years now."
The Special Guest of Honour, MD/CEO, Development Bank of Nigeria, Mr. Tony Okpanachi decried the seeming neglect of the teaching profession and the education system in Nigeria and stated that with the highly impactful works of entities like Inoyo Toro Foundation, respect is gradually returning to the teaching profession.
Earlier in his welcome address, the Inoyo Toro Foundation Screening Committee Chairman, Dr. Enobong Joshua had recounted the main objectives of the Foundation and celebrated the contributions of the Advisor, Chairperson, Board Members, Program Manager, Administrators, Sponsors, Volunteers, the Education Commissioner and Permanent Secretary, the State Secondary Education Board and various other stakeholders.
Sponsors of the various awards included Mr. Aniekan Ukpanah, Boda Services Limited, Hensek Integrated Services Limited, Savannah Energy Plc, Anchor Insurance Ltd and Bassey Ukpong Udo Foundation.
In attendance were the Regional Manager, South East, Savannah Energy, Mrs. Nkoyo Etuk; Managing Director, HENSEK, Mr. Uwem Okoko; immediate past Vice Chairman of ExxonMobil Companies in Nigeria and Advisor, Inoyo Toro Foundation, Mr. Udom Inoyo; Vice Chancellor, University of Uyo, Prof. Nyaudo Ndaeyo; Vice Chancellor, Akwa Ibom State University, Prof. Nse Essien; the State Commissioner for Environment and Mineral Resources, Hon. Charles Udoh; Commissioner for Education, Mrs. Idongesit Etiebet; as well as the State Chairman of the Nigeria Union of Teachers, Comrade Edet Okon Abang.
With the 22 latest beneficiaries, the total number of Akwa Ibom teachers and principals so far rewarded with cash prizes by Inoyo Toro Foundation in the last fourteen years, stands at 256 teachers and 4 principals. Similarly, over 3,500 teachers have been trained, over 5,040 students have been mentored and over 90 schools in Akwa Ibom State have been positively impacted through the works of the Foundation.
The 2021 teaching excellence awards ceremony is the 14th edition since the inception of the annual event that seeks to promote teaching excellence through recognition and rewards for secondary school teachers, mentorship for students and facility intervention support for public secondary schools in Akwa Ibom State. Due to COVID 19 management requirements, this year's programme was a hybrid of a series of online and offline activities. Unlike in previous years, some of such activities for this year, like the mentorship sessions involving mentors and students from their adopted schools, have already been held.
In the last fourteen years, Inoyo Toro Foundation has remained consistent in the development of capacities in Akwa Ibom State, with beneficiaries cutting across various spheres including teachers, students, schools, libraries, laboratories, lawyers, journalists, medical workers, techies, film makers, writers, actors and actresses, entrepreneurs, youths and women across various Akwa Ibom communities.
---