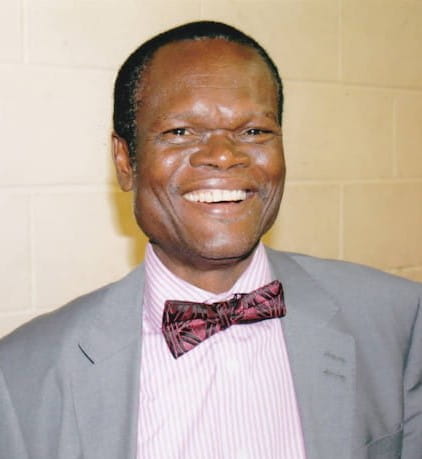 Prof. Ebong Mbipom
Pioneer Award Committee Chairman
Prof. Ebong W. Mbipom was a professor of Geophysics in the University of Calabar. He was a fellow of the Nigerian Institute of Physics (FNIP) and Nigerian Environmental Society (FNES). After an MSc degree at the University of Ibadan, he lectured at Ahmadu Bello University, Zaria before proceeding to the University of Edinburgh for a PhD in Geophysics in 1977.
Prof. Mbipom was interested in University Industrial Productive Sector linkages through consultancy and research. In 2004, he initiated the Intervention Workshop for Science teachers in Akwa Ibom state for positive impact on our youth's understanding of science and their performance in O-Level examinations.
---
Tribute to a pillar of support and a dependable friend
It took a brief meeting in Calabar, in November 2007, for late Prof. Ebong Willie Mbipom to welcome the idea of an intervention in Akwa Ibom State public secondary schools by way of recognizing science teachers who have excelled in their career. If there was any question from Prof, it had to do with the commitment of the initiators to ensure a transparent selection process. It was therefore in response to this that Prof. Mbipom was selected to serve as the Chairman of the Screening Committee, a position he gladly accepted and held from the Foundation's inception till his demise. His integrity and credibility spoke the loudest in his role of selecting award winners. His passion for the development of education was his driving force and he worked tirelessly and selflessly to see the Foundation's vision achieved.
An amazing man who spent years shaping, sharpening and touching lives. The Inoyo Toro foundation owes a debt of gratitude to the encouragement, sound advice and strategic planning methods of late Prof. Mbipom. Years have come and gone and the Inoyo Toro Foundation has recorded several successes and achievements. This has been as a result of the hard work and dedication of members of the Board of Trustees of the Foundation, staff, sponsors, mentors, volunteers, and other supporters. We use this opportunity to express our immense appreciation to all who have supported us.
The work of the Foundation is centered on awarding teachers for their distinguished service in their profession and the Screening Committee plays a vital role in the rigorous process of screening and selecting the awardees.
The foundation will always owe tribute to the memory of a great academic, a man of great integrity, a pillar of support, and a dependable friend.
We sincerely miss him!
---